Silver Beauford Tourer - Please Find Our Quote Form Below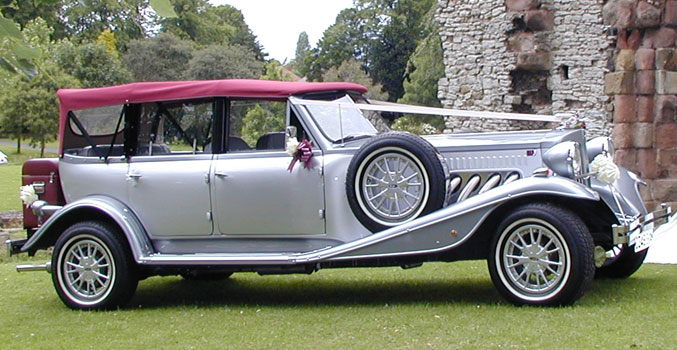 Mann's Limousines is one of the leading suppliers of traditional wedding car hire, We are able to supply you with a choice of classic car hire options.  Here is our beautiful hooded Ivory Beauford Tourer which cant fail to impress when your church wedding demands style and refinery.
Mann's are able to provide varied styles and designs of cars including a very rare selection of duplicate luxury cars for the ultimate show stopping arrival at your special occasion.
All of Mann's Limousine vehicles come fully insured and are chauffeur driven with selected drivers to help your day go as smoothly as possible. Tick the 'transport' of your list and call Mann's limousines today.
Please fill in our simple online quotation form below and we will get back to you as soon as possible with your price and requirements, alternatively you can call Freephone 0800 511 8 511 or 0121 525 1559 and speak to one of our sales team who will help you with your enquiry.
Classic wedding car hire
At Manns we are passionate about these elegant cars which recreate the cars of the Edwardian era - an age of elegance and style for that perfect church wedding atmosphere.
Designed for wedding hire in mind, these beautiful cars are adorned with detail taken from a bygone era. Sleek yet traditional these cars will be admired by both men and women young and old.
All Beaufords are hand crafted and are all unique. Based on the 1920's - 1930's Duesenberg and the Packard Eleventh Series Eight Sedan, these replicas offer the style and finesse of these truly amazing cars with the reassurance of modern mechanical enhancements.
These cars will truly ehance your wedding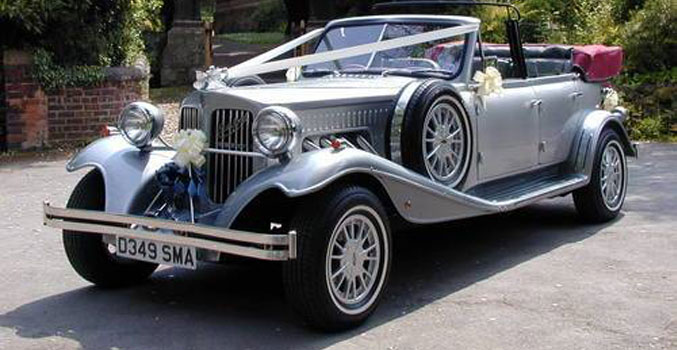 Complete Our Quick Enquiry Form For Your Free Silver Beauford Tourer Quote