The White Rolls Royce Ghost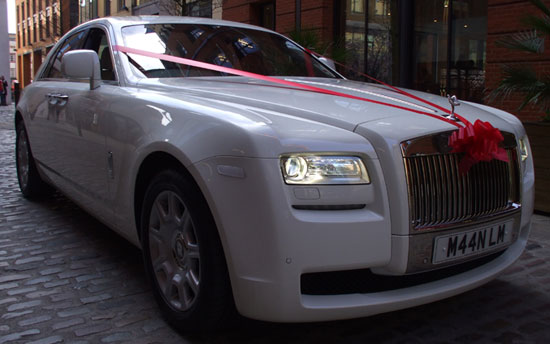 The pride of our fleet - Our white Rolls Royce Ghost is the epitome of elegance. The perfect wedding car for hire.
The Ghost is the essence of Rolls-Royce in its simplest, purest form. Every inch delivers on the power of simplicity.
Inside, the Ghost is refined and cosseting. Entering and exiting the car is both effortless and graceful, and the low sill height means you step 'onto' rather than 'into' the Ghost.
The unique rear-hinged coach doors open to 83 degrees, adding an extra sense of theatre for the rear passengers.
Once inside, you are greeted by a simple yet contemporary interior with large expanses of soft full-grain leather, natural wood veneers, and Blenheim wool carpets. The cashmere-blend roof lining adds to the sense of openness and space.
It's like being cocooned in your own convivial private sanctuary, leaving you relaxed and unruffled after the longest journey.
Ideas For Your Day
You could have the Ghost as the main standout car, with accompanying Jaguars, other Rolls Royce models, Beauford Tourers, or choose from our range of limousines to complete your wedding day fleet.
Inquire & Hire
To inquire, please fill in our simple online quotation form at the bottom of this page and we will get back to you as soon as possible with your price and information.
Alternatively, you can freephone 0800 511 8 511 or 0121 525 1559 and speak to one of our sales team who will help you with your inquiry.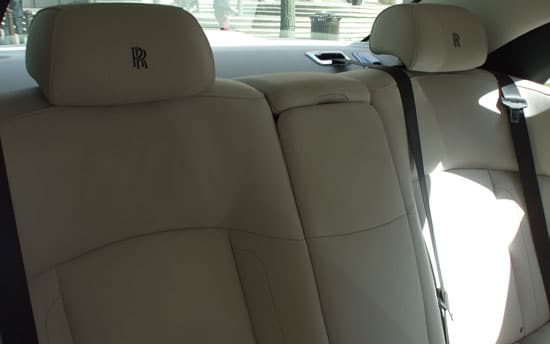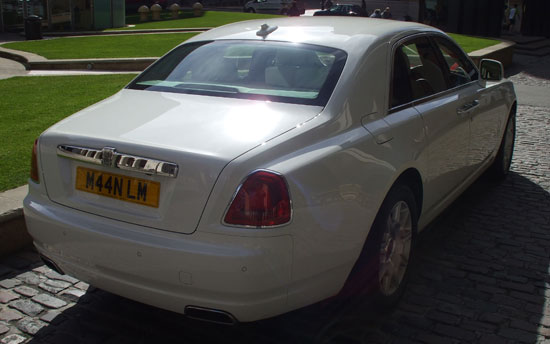 White Twin Rolls Royce Phantoms
Silver Rolls Royce Phantom
Our Rolls Royce Range Inquiry Form