Mann's Limousines is located in Birmingham making it the perfect choice for your Midlands event.  Other people have commented on us as being "a time served, reliable, recommended and trusted company", so if specialist vehicle hire is your requirement Mann's are the company to help you along the way.  On offer here is the nationwide acclaimed White Maybach.
Please fill in our simple online quotation form and we will get back to you as soon as possible with your price and requirements, alternatively you can call Freephone 0800 511 8511 or 0121 525 1559 and speak to one of our sales team who will help you with your enquiry.
Exclusive White Maybach Wedding Car Hire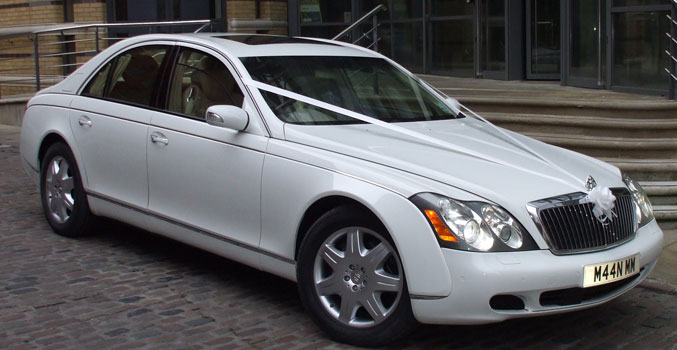 [contact-form-7 id="580" title="Part 1 White Maybach"]
Maybach is a high-end luxury automotive brand that competes with the likes of Rolls-Royce and Bentley. Founded in 1909 by Wilhelm Maybach, the company quit producing vehicles in 1945 until the brand name was revived in 2002 by Daimler-Benz.
Measuring an impressive 225.5 inches (5.73m) in length, the Maybach is one of the most luxurious cars in the world. Its proportions provide all privileged passengers with exceptional room and comfort.
Standing out from the crowd has never been easier. Inside the Maybach 57 you'll discover one of the most beautiful and stylish living rooms to be found on the road today. You may even forget that you're on the move.
It goes without saying that only particularly fine and exclusive materials are considered for the interior. Sumptuous leather is complemented by exotic woods, such as Amboyna, while the superbly finished trim elements lend their own unique and timeless appeal to the passenger cabin.
It is not enough to select the finest materials. Only through exacting craftsmanship can their true potential be unlocked to create a unique, entirely personal ambience to satisfy even the most demanding tastes. The Maybach assures a level of quality that sets new standards within the ultra-luxury segment.
Both the front and rear seats in the Maybach are master pieces of comfort technology. All the seats are heated. The shoulder belts automatically adjust to the height of the driver or passenger, which helps to enhance their protective capability. The seats are upholstered in Grand Nappa leather and feature multicontour seatbacks with dynamic lumbar supports. All the seats are electrically adjustable for height, seatback and cushion angle, cushion length and head restraint height. To protect from the sun and guard from the gazes of strangers, the Maybach features rear high-grade fabric window curtains that can be operated from all four seats.
Maybach occupants enjoy the convenience of audio, video, phone and navigation systems as standard equipment. Installed in the front centre console, the COMAND unit manages the functions of the radio, DVD, and front telephone, as well as the navigation system and other services. Rear passengers can control specific audio and video systems using a remote control. The driver can also control the communication systems by voice, keeping both hands on the steering wheel for safety. A state-of-the-art, fiberoptic network is the backbone of all multimedia components and offers precise, high-speed communication among these components. The rear cabin audio-visual system with DVD player, single-feed 6-disc CD changer, auxiliary inputs, remote control and dual 9.5" video monitors (one on rear face of each front seat) offers the potential for hours of uninterrupted in-vehicle entertainment.
Installed in the rear centre console and equipped with its own compressor, the thermostatically controlled refrigerator, allows passengers to enjoy chilled drinks. Two Champagne flutes, in hand-polished 925 sterling silver by Robbe & Berking are included as standard on all Maybach models
The ultimate way to travel as a passenger, luxurious interior, acres of space and a truly luxurious ride, this very rare and luxurious car will definitely make your wedding day extra special.