Vintage Wedding Cars Birmingham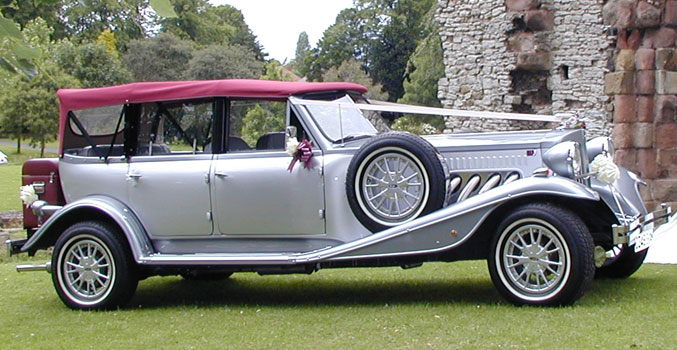 Even in the modern world where everybody wants the 'latest this' or the 'newest that', sometimes the old maxim of 'they don't make them like they used to' still comes to the fore. That is certainly the case with weddings, and particularly wedding cars.
Vintage wedding cars are a hugely popular choice for couples when researching and hiring wedding transport. Here at Mann's Limousines, we explain what makes our vintage wedding cars Birmingham a perfect choice for your big day.
Vintage Wedding Cars are Customisable
Most regular wedding cars are exactly what they are – white, silver, and wedding-ready! That is perfect for functionality and serving their purpose, but if you want something more unique and a little different for your wedding day, Mann's vintage wedding cars to hire come in a range of colour schemes to match any wedding theme.
Our vintage fleet of the 1930 Beauford Tourer can be customised for your occasion;
Vintage Wedding Cars are Picture-Perfect
If you are lucky enough to have glorious weather on your wedding day, the hoods on our Birmingham vintage wedding cars can also be completely open – perfect for wedding photos showing the bride and groom looking resplendent in classically vintage wedding cars.
Add to that, the coloured hoods and ribbons on our vintage Beauford Tourer range look fantastic when they match or complement with your chosen wedding theme, whether that's the colours and style of the bride and groom's attire, or even a venue with a classical aesthetic.
All those elements come together with our vintage wedding cars to hire in Birmingham.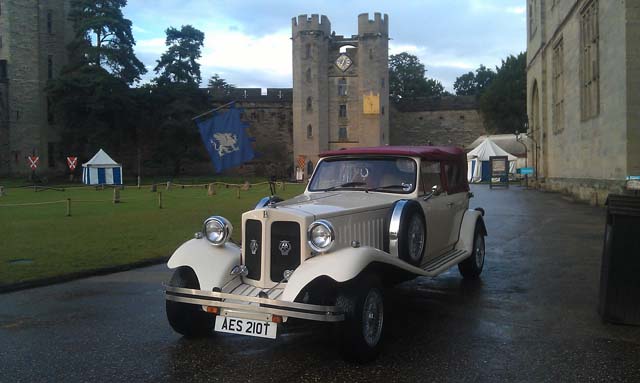 Our Vintage Wedding Car Deals & Discounts
Our good old vintage wedding cars also come with good old vintage prices and discounts! Don't worry though – you don't have to dig out your Nan's old shillings, Mann's still accept pounds, pennies, debit cards and credit cards, but our customers can enjoy the following deals on our vintage wedding cars Birmingham; 
15% discount on all vintage wedding cars if your wedding is between Nov & March.

10% if your wedding falls in April, May, or October.

20% discount all year round if you're having a midweek wedding.
Our vintage wedding cars to hire include a full, professional chauffeur service. Our qualified chauffeurs will pick you up from your home (or other agreed location) and scenically drive you back in time (metaphorically speaking) all the way to your wedding venue.
We will also ensure there is time for photo opportunities too. Whatever requirements you need for your vintage wedding car hire, let Mann's know, and we will make your day as classically timeless as our vintage wedding car fleet.