Our goal is to provide luxury vehicles that are referred to be out-of-this-world, and we offer pure luxury Rolls Royces across the UK. To give you a once-in-a-lifetime experience, we put a premium on the comfort, design, and performance of our vehicles. Choose from a range of Rolls Royce Wedding Hire options in your area by calling today for a wedding day to remember.
Luxury Rolls Royce Hire Near Me
Why not browse Mann's Luxury Fleet's available Rolls Royce Wedding vehicles in your area? We provide a variety of automobiles, including the wedding Rolls Royce Phantom and the white and silver Rolls Royce Ghost.
You naturally want everything—including your wedding car—to be perfect because it's a once-in-a-lifetime occasion. Mann's Limos is the finest place to find many, matching Rolls Royce wedding cars for hire. Mann's Limos provides a variety of modern and vintage luxury vehicles close to you for your wedding.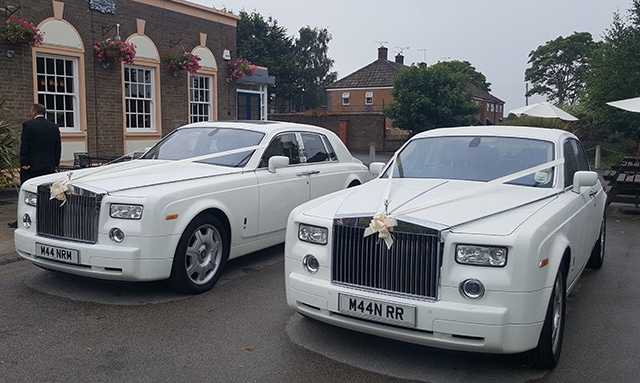 Wedding Rolls Royce Near Me
Local wedding car rentals are Mann's main line of business. Whatever the circumstances, you can count on us to deliver the Prestige Chauffeur Driven Rolls Royce Wedding Car because we control the entire fleet and don't depend on other parties to supply us with expensive cars.
Our wedding car rental service offers Rolls Royce Phantoms and Ghosts in white and silver styles in addition to the modern Rolls Royce Phantom. We also offer twin Rolls Royce rentals. For your perfect wedding day, you can be sure that Manns will offer the ideal wedding car—or a variety of wedding cars—along with our renowned service. Call us at any time to discuss your requirements for a Rolls Royce wedding car or to arrange a viewing of our quality fleet of wedding cars that are available for hire. Make a reservation with Mann's Wedding Car Hire to arrive at your wedding in style.
Mann's Limousines Limited