Mann's Limousines has an extensive and proven history with an enviable track record in being able to supply car hire for prom in and around Birmingham and the West Midlands.  When you first set out to see who can supply you with reliable prom car hire for either yourself, your sons or your daughter's prom then a stretched Limo from Manns is worth investigating, there is a testimonials page on the site showing letters of thanks and appreciation dating back since the company began in 1995. When it comes to limousine or prom car hire Manns limousines to have a proven track record and years of experience so you know you are using a safe company you can trust.

They can offer the best prom limos available and a tailored service that caters to your needs. Whether it is a university prom or your children's high school prom our prom car hire will give you a taste of how the other half live and a VIP experience to add a touch of sophistication to your night.  Whilst getting to the event and arriving in style is your child's main concern, yours can be that of safety and assurance they are being looked after, all our available cars to hire for prom are COIF registered and the Drivers are DBS checked.
On The Day of Your Prom Car Hire
Within the Limo Hire Package, you can expect to be collected from your home or first pick up location at the arranged time, enjoy free soft drinks and music of your choice with a complete light show inside the 16 seaters Hummer. Start the party before you get to the venue with our perfect party on wheels with the hummer limo car hire for prom.
All of this will take place before you have even reached your destination and the official night has begun! Manns offer you a full hour of driving before you get to your special event and again in the presence of their highly-trained drivers you can be safe in the knowledge that they are prepared for any situation. Each one of our vehicles, be it prom car hire or any other services we provide at Manns limos, comes complete with a qualified and dedicated chauffeur to look after you and your companions during your journey.
What's not to like! To get a detailed quote and check the availability of your favourite limo hire company for car hire for a prom, call us today and speak to one of our sales team on 0800 511 8511 or email us using the contact form by clicking here.  Please note for the purpose of School Proms we only hire our 16 seat hummer limos all of our other vehicles are hired out for weddings only.
This must be one of the largest and most advanced H2 Hummers in the U.K, the ideal prom car hire that is sure to turn heads! We understand that when planning your prom and the car you and your friends want to hire many people are looking for that one special vehicle that will make sure that it is a night you and your friends will never forget. The magnificent H2 hummer prom car hire from Manns limos will be sure to grab the attention of all that it passes and you can choose from our silver H2 Hummer or white H2 hummer.
Read through the specification and see all the features our hummer prom car hire has to offer!
If you are looking for something big to transport up to 16 passengers then this Hummer Limo is definitely for you. This vehicle has all features you would expect with H2 and don't forget we include an hours drive before your drop off and free soft drinks. All this plus the glamorous and spacious interior makes the H2 Hummer the perfect car hire for prom if you want to arrive in style.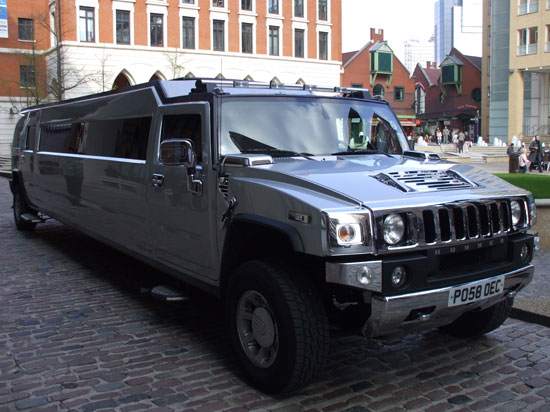 H2 Hummer Features:
16 passenger capacity (U.K Street legal has coif)
Porsche silver
Disco floor
Disco ceiling
Mega sound system
6 x Large LCD Monitors
DVD Player
Loads of head and legroom
Full Chrome kit
Neon lighting underneath Hummer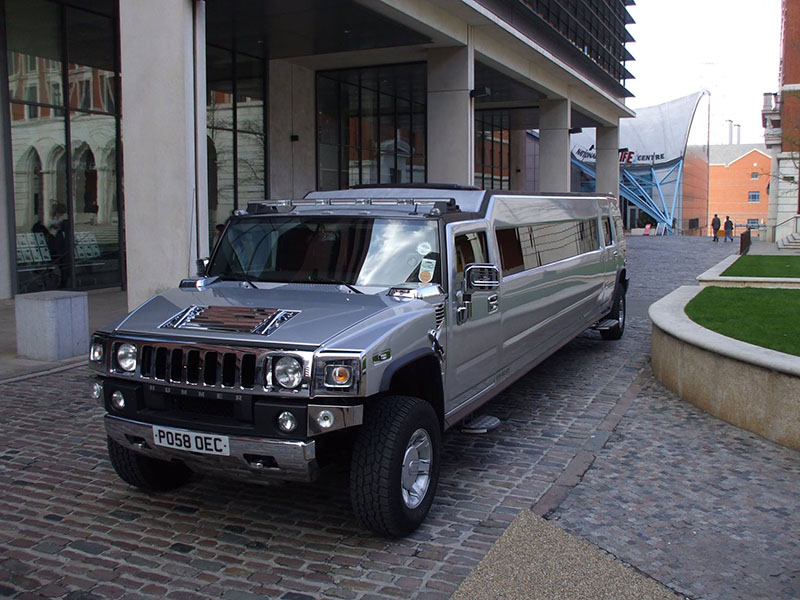 Complete Our Quick Enquiry Form For Your H2 Hummer Limo Hire
Please fill in our simple online quotation form 
we will get back to you as soon as possible with your price and requirements.
Alternatively, you can call Freephone 0800 511 8511 or 0121 525 1559 and speak to one of our sales team who will help you with your enquiry.